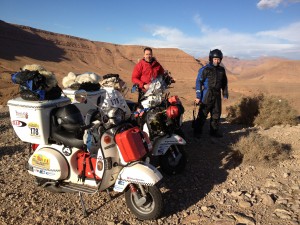 (Posted on behalf of Joachim:)
We woke up relieved that the awesome hospitality of our hosts had not left us dead from food poisoning (an interesting dining experience where our hosts would dig their arm as far as they could into some unrecognizeable carcas and tear out lage handfuls of gut, meat, bone or whatever they could get a firm grip on, and with great exitement pass it slapity-slap, from hand to hand, all the way down the table until it landed sit a loud splat on our plate… Mmmm, merci, thank you, shucran… seconds you said? You are too kind, of course I would love some more of that slimy belly… Nice rifle you have there that you are pointing at us)
Anyways, off we went as brave vespateers into the desert, a big flat pancake of sand and ruble as far as we could see, and in all directions. We dismissed all advice against riding the pistes today as we could be facing a sand storm… More about that later.
Riding here in the light we were amazed how we managed in the pitch black the night before. There was no clear defined pists, and tracks were  criss crossing every where, comprised of soft sand, wash boards, rubble, rocks, tracks, no tracks, the whole lot.
We were having a ball, riding, filming, and then Joachim ate sand as he tried to navigate som soft tracks, which was a lot of fun also. Ofcourse Magnus was filming at that very moment, and capturing the moment on film seemed far more important than to help out their fellow rider stuck under 180+ kg of loaded scooter… And then it happen to Adrien, which made it even better… What a blast!
Then the wind started picking up and the desert turned into a big brown pot of sand, with us stirring in the middle it. We had to abort the offroad riding and find the shortest route to tarmac.
Most of the remainder of the day was spendt riding with a 60 degree lean into heavy side wind while trying to circumvent thousands of potholes at 15 meter visibility and being sandnlasted at the same time. When we finally came to Zagora long after night fall, there was sand everywhere… Inside our mouths, inside our gloves, in our boxers… Everywhere!
Wow, what a fantastic day!