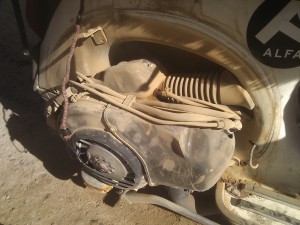 Here is a pic from yesterday´s adventures in Western Sahara. A lot of sand on the engine compromised the mechanics of the vespas, but eventually, the guys made it into a small hotel in the middle of nowhere. There, they enjoyed a shower, a camel burger and coffee. After sereval days on bread and water, this was a real treat!
Today, the actual driving is not the challenging part. The challenge is crossing the Morrocan-Mauritanian border. The road book says:
"The border crossing will be somewhat annoying and nerve wrecking. Be cool! Be patient and accept your fate."
Between Morrocco and Mauritania lies a 4 km strip of sand which is a "No man´s land". Sure sounds like a scary place: "Since no country has control over the place it is full of smugglers, illegal money changers, blown up vehicles, land mines, cars left here from various insurance scams and piles of trash. ATTENTION! There are no police or military here. There's no law. However, there are plenty of mines. Always stick to the dirt track."
Hm… Hopefully the guys will make it thorugh and end up safely at the campsite in the desert. What awaits them now is four days of tenting, so there might not be so many pictures from here on. But we´ll keep you posted!
UPDATED: I just received an sms from Magnus:
"The border is difficult. Got stuck in the sand in no man´s land. Had to swich a burnt clutch. Now, we walk up the route on foot before we drive. It is warm and tiresome! But we will get through."