The last order of business before getting into the saddle was to sort out the not so intuitive Scala Rider* intercom – a routine which was to be repeated several times every single day for the remainder of the adventure. The routine went something like this: "Adrien, you push A, or was it Joachim? No Joachim, it is Magnus who needs to push A then B while we wait. Now you Adrien have to push A, then Joachim B, but don't hold it too long – just right until the beep, then I wait until I hear rider B connected then I push B and you A… Who do you mean by you? …Or was it B? Hello can you hear me?  What happened to Adrien, did he get disconnected? Hello? Anyone? Ok, everyone reset and start in reverse order… no, you wait until… hello??…R I D E R  B  C O N N E C T E D, hello?, hello? Push B, Who me?, No, Joachim…. Ok… Hey, we are all connected . Let's roll!!!"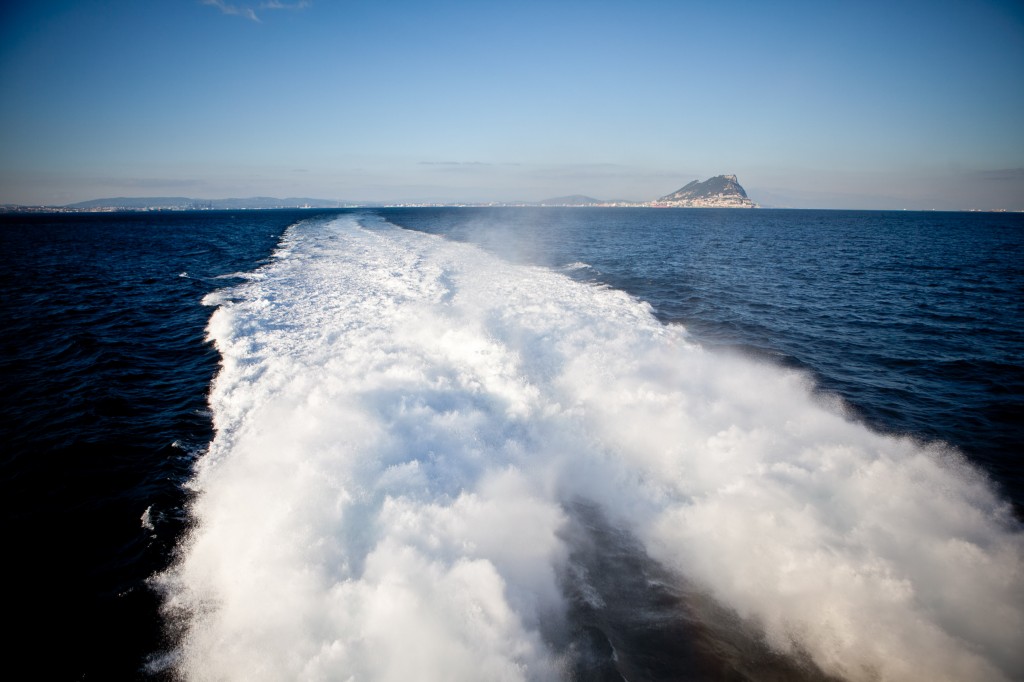 We eagerly rolled out of the warehouse lot  and spun down to the nearest gas station… with a few turns in the roundabout before finding our bearings. Held up by the Policia Municipal who wanted to take photos and a brit who was very interested in what we were doing, the clock was ticking away, and we rudely had to dismiss ourselves – we had to make the ferry. We fueled up and gunned out of there trying to make up for lost time.
Just as we were getting into the groove of things, and just as our grins were about as big as "the great outdoors", Joachim's scooter had its first breakdown… after only 30 kms on the road – crap, we need to make the ferry before 15:00 hrs, we gotta fix this quick!
(Murphy's law dictates that whatever can go wrong, will go wrong, and the more precautionary measures one takes, the more likely it is that something will go pear shaped. Well, we had prepared for everything the last 18 months, and as such were doomed from day one. Murphy, in cahoots with Lucifer would ensure that tough became harder).
We had many theories as of what could have gone, and some made us very uneasy. The relief was therefore great when we took off the side cowel and discovered that the spark plug cable had come undone, the easiest "break down" ever. Grins and shades were back on, and the throttle twisted as far as it could go – we would be making the ferry to Ceuta after all. A few wrong turns, with round and round and round in some roundabouts, and we just missed the ferry. Our crossing was delayed an hour and a half – but we would still make it into Morocco. The next ferry however was delayed another 45 minutes… Our plans to make the Spanish Moroccan border in time to put some distance into Morocco the same day, was looking bleak by the minute. But, if everything from here on went smoothly, we would still make it.
A couple of kilometers into Ceuta, still having a chance to make it into Morocco, Adrien experienced his first of many breakdowns to come. His throttle cable had come undone. Our window was shut, we would not make Morocco today. Upon further inspection we found that a part that holds the cable in place had been lost, an integrated part in the headset which was as likely to come undone as winning the lottery. Further still, out of the more than two thousand bits and bobs we had taken along, this part was not among them.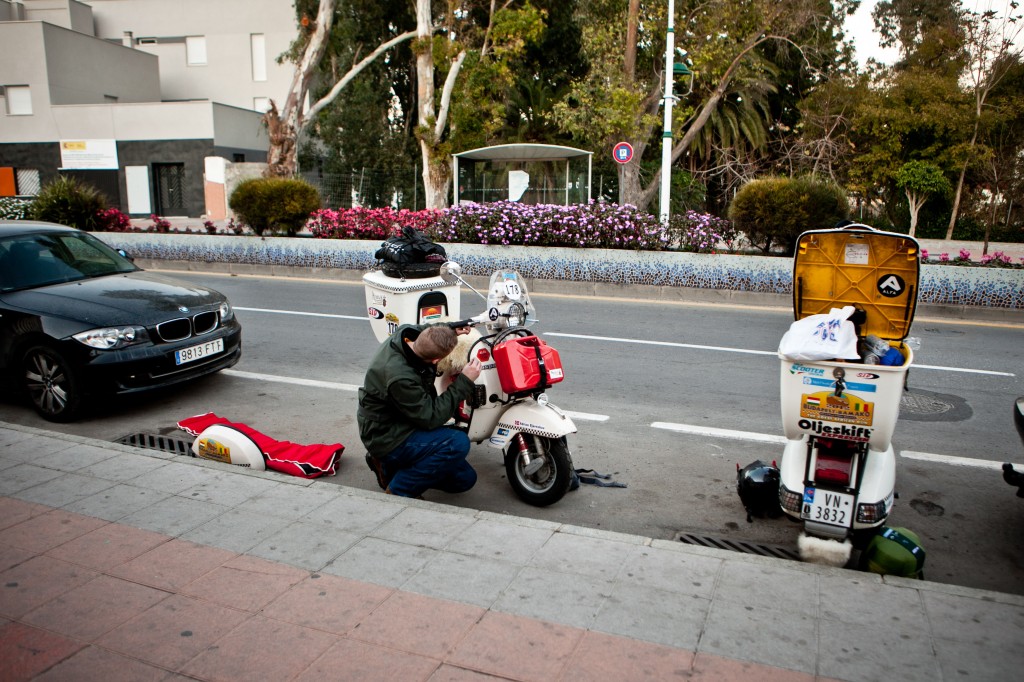 It was getting dark and we were surrounded by an ever increasing horde of shady people, with keen eyes and long fingers, directed at our tools, parts, cameras, etc. It was getting uncomfortable and stressful – we did not want to be here one more minute (at the end of the trip, this place would have seemed like the most peaceful and stressless place on earth). Anyways, it was our first sign of what was to come… and a reminder that it was not a fable when we had repeatedly told ourselves before we left home; that things would not be smooth, that things would go up shit creek just about every day, that things would be hard and frustrating, and that we would end up arriving after nightfall most days and be dead tired and exhausted.
(As we were to become  ever more aware of over every passing day; there is no such thing as "being mentally prepared". Reality, well, it is reality, and reality can't be altered by the mind alone no matter what anyone has tried to convince you of. Pain still hurts just as bad no matter how much you have told yourself beforehand that you will be suffering. There is a lot of truth in the saying "reality is a bitch").
It was given that our window had closed and that we needed to spend the night in Ceuta. Joachim found a hotel and returned to Adrien and Magnus who were working on the fix.  In the end, after three hours, we managed to make a bodge repair with a couple of washers, some epoxy, a hack saw, and lots and lots of silicone – Adrien's scooter still runs with this bodge fix today.
An hour or so more of adjustments to the scooter, and we decided to treat ourselves to a great meal. Our only regret was that we did not eat more as this was just about the only real meal we would see for the next two and a half weeks.
With enough reality (or bitch if you will) for one day, we hit the sack – exhausted, but happy. The only things on our mind being "we are on our greatest adventure ever – we are really here and we are really doing it, we are here and here is Africa, and with us are our beloved scooters!
Two hours of sleep the last 48 hours and virtually no distance put behind us, day one is over. This was to be the easiest day on our journey.
*The scala rider actually works, but how you get it working is still somewhat of a mystery to this very day. Although a very useful piece of equipment, and one that worked awesome once we got it up and running until the next time it needed a reset due to some interference, opinions were split: Joachim thought that it could need a bit of more development before he could give it more than one thumb up… Magnus on the other hand, who is any manufacturers wet dream as he religiously endorses any product he owns, was of course in love with this product and thought it was stable and intuitive. Adrien, the diplomat, his position was neutral. Even though we don't see eye to eye regarding how good this equipment actually is, we all agree that it was very useful and that it is probably the best intercom on the market – seeing what others had in the rally, i.e. the Sena which is the nearest competitor sucks in comparison.