The hotel receptionist told us that there would be a swift ten minute border crossing into morocco from Ceuta (a spanish enclave on the African continent). Great we all agreed, lets take it slow in the morning – our protocol og being on the road at sun rise can wait another day.
In the morning we had a big breakfast, and the bread and apricot jam was delicious (little did we know that we would be living mostly on bread, water and apricot jam for all meals besides "dinner" for the remainder of the trip). We called up Kristina in Norway (Magnus' girlfriend) and all sang happy birthday. Spirits were high – today was going to be a breeze.
We arrived at the border in a matter of minutes: Exchanging Euro into Dihrams on the black market, hiding our unlicensed CB radio antenna, and exiting Spain/Ceuta was – well, all a breeze. Things are looking good. Who ever said that Africa was not civilized?
Next we arrived at the Moroccan side of the border and cut to the front of a very long cue. Here we were told that we would have to wait for the border officials to show up – I guess they felt that today would be a breeze also and that there was no need to get out of bed and get to work before ten.
Right next to us, a woman (presumably of Moroccan decent), lost her marbles and went completely ape shit for no apparent reason, attacking a couple sitting in the car right in front of her own – kicking, beating and tearing at the car at all might (at one moment I could swear I saw her chewing off a piece with froth coming out of both sides of her mouth – an exaggeration maybe, but not by much). All of a sudden, the very busy strip was void of all people as all living species in a hundred meter radius had gone for cover, even the police and army. What a gal! Just as things were calming down to merely a noisy rumble, her skinny husband felt it safe to get out and yap a bit himself.
Anyways, the border crossing took two and a half hours. Right on the opposite side we find a brand new four lane highway… with us being the only ones riding on it. Big egos need big roads i guess, and this was perfectly suited for ours – the brave scooter adventurers who would tear a hole in the sound barrier as we sped through Africa. We were at the top of the world, and nothing could bring us down… except for maybe Adrien who's mind was on his bodge fix from the night before (we can now report that upon our home return Adrien ordered enough of these to last him a life time – Sett inn lite bilde med lenke med teksten "bodge repair on Adrien's mind).
The landscape changed quickly and roads turned narrower and twisty as we entered the Rif mountains – it now felt more like Norway… that was until we were introduced to African driving culture. Shortly summed up: My vehicle is bigger than yours, so get out of my way. My vehicle is loaded 60 feet high with crates of oranges just about to tip over, so get out of my way. My vehicle is more beaten up and is of less value than yours, so get out of my way. You are a foreigner and as such you should not be here, and hence, if there was to be an accident it surely must be your fault – so get out of my way. My truck has no mirrors, no lights, no wind shield and no brakes, so get out of my way. As a bus driver I get paid for the number of trips I can make in 48 hours without sleep, so i cut every single corner no matter what is in my way – so get the hell out of it. Your scooter fits better in the ditch than mine, so get into it before i put you there. I don't use indicators as i know where I am going… Allah is with me and will grant me lots of virgins if I die in a holy war (in Africa it is not road rage, it is road war)
A few hours of near death experiences we finally got into the groove of the driving culture. What at first seemed lethaly unpredictable actually ended up feeling quite natural, governed by common sense and.not like at home where people choose an unnatural way of driving, namely by the law.
Once again, we were high on adventure, and it was time to get more "culturally adjusted" now that we were dealing so well with everything else, and the crossroads Derdara – in the middle of no-where, seemed like a good place to do so. We took our chances and got a street side butcher to cook us up a kilo of shish kebab (Joachim knows how to count to one in French, and also happens to know the French word for kilo, which is, well, "kilo"). While we waited for the most delicious shish kebabs we have ever had, a hundred year old really nice geezer wanted to sell us some funnybaccy – the kind of nice geezer that lingers forever and is impossible to get rid of (This is the Rif region, known for its Marijuana business – whether the word Riff-Raff comes from here, I don't know – but it wouldn't surprise me).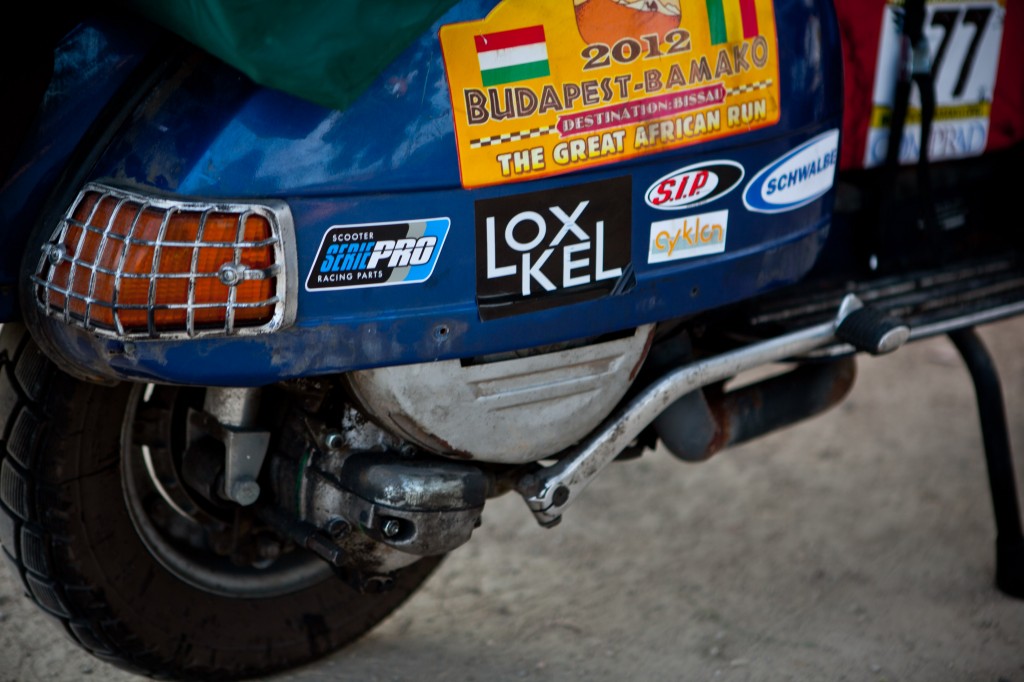 However nice this experience was, we learned that we should not stop for service – it just kills time. From here on, we decided we would just have to make all our lunches and most of our breakfasts ourselves in order to save time. The long breakfast, the long border crossing, and our long lunch, would lead us to riding in the dark again (a very lethal prospect for a Vespateer in Africa). Also, at Volubilis we had to stop for the required photo op with the roman ruins in the back ground. Our initial goal was set for the foot of the Atlas Mountains, but there was just no chance that this was going to happen. Instead we decided to try to find a room in the very busy city of Meknes. It took a while, riding from hotel to hotel, before we could find one with safe parking. And, can you believe it – a MacDonald's and a Pizza hut on the same block! Pizza hut it was – we had a feeling that meals would be a bit more, shall we say, rustic, from here on, and that we would yearn for properly cooked western junk food. We were more right than we could possibly imagine at this point – Meknes is the end of civilization.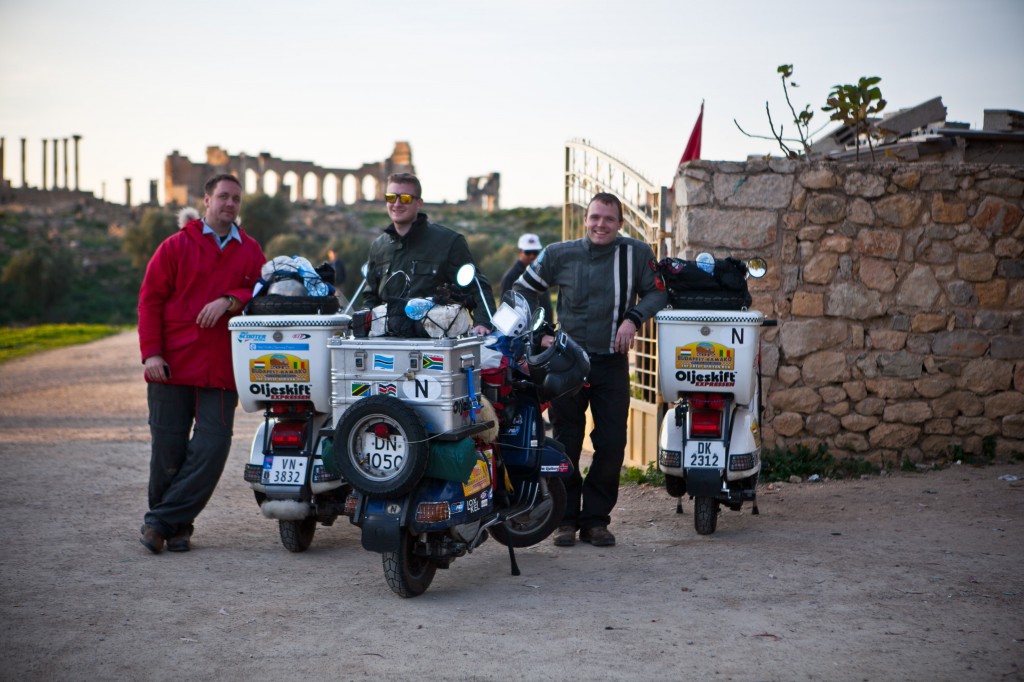 While eating, we go through the day and agree that we need to get our routine together if we are to make it through this rally. Today was "only" 305 kms on good roads and with zero breakdowns. Even though we woke up at sun rise, we still arrived long after dark and didn't make it to our initial goal for the day. There would be days ahead where we would travel more than twice as far, under extreme riding conditions, with breakdowns, worse border crossings, and various other hassles. It is not how fast we ride, it is how long we stop, that kills our average. From here on the team improved massively and we started working as one efficient machine…