Today was a day we were all looking forward to, and one we were also a bit concerned about. We've heard that the Atlas is spectacular, a real nature's  wonder. We had also been warned that the road could occasionally be closed due to snow, and that rain is highly likely at this time of year. Also, today was going to be a very long day in terms of distance as we were heading past Rissani – the beginning of the Sahara. An effective routine and luck on our side would be paramount if we did not want to get caught out at night again – no rest for the wicked they say… I guess Africa thinks that we are really wicked and that today was the day that it would give it to us and put us through purgatory.
Riding into the Atlas became ever more spectacular for every kilometer – over all, probably the most asstounding nature any of us had ever ridden through. No pictures or words can give justice to this place – it needs to be experienced. But, the Atlas also has something more to offer besides beauty, namely weather. Lots and lots of weather, and of every single kind – all packed into one day. The first half was easy, and our scooters coped surprisingly well at this altitude (Magnus and Adrien had on our lunch stop rejetted all our scooters for higher altitude)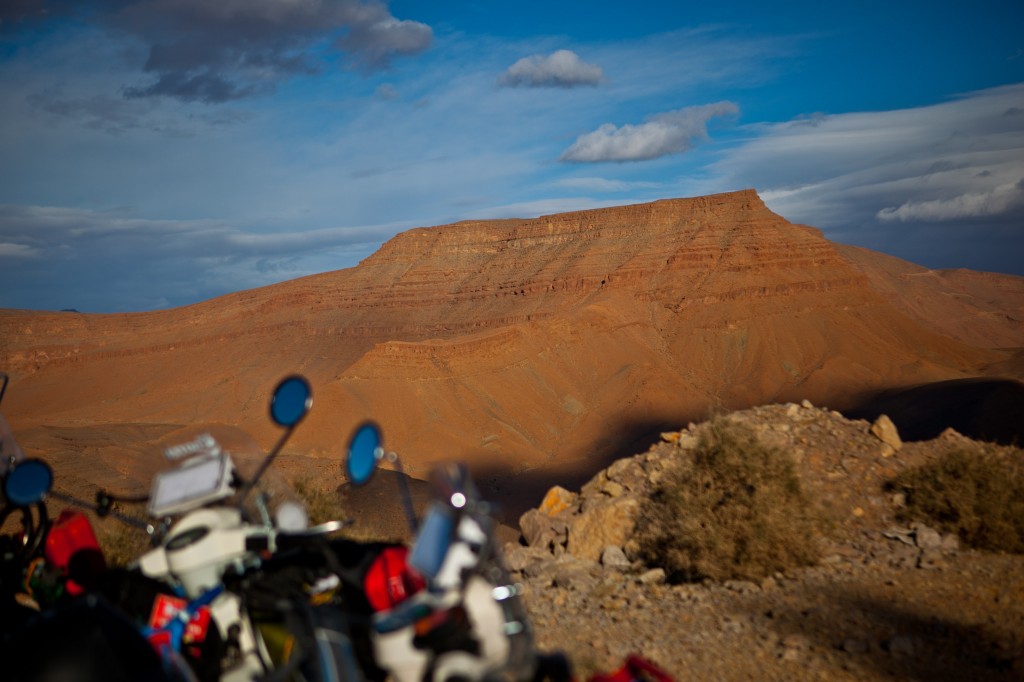 It started out great, with the sun heating our bodies. Then we got fog so thick we could barely see our front fenders at times. Then we got wind, from the left, which is the worst place to get it from on a Vespa. Then we got rain, then hail, then snow. Ice and snow would constantly cover our visors, making it difficult to see. The roads were so covered by black ice that the strongest side winds would take our scooters sliding sideways. Riding was very slow and extremely difficult, and it got worse the higher we got – at one point the GPS read just short of 2200 meters altitude!!! A man driving in the opposite direction stopped and asked if we were ok. He adviced us to really hurry up as this could get much worse, if not, we would risk not getting accross today. (we were later told that the road was closed shortly after we had come through).
Although we were prepared for this type of situation, none of us wanted to have to spend the night, or two nights for that matter, in the freesing cold Atlas mountains with little food and water. We had to compromise our safety to push forward. It was extremely hard, being pounded by wind and ice, constantly getting into near wipe out situations, and constantly worrying about crashing or getting stuck. Having ridden a lot of winter, Joachim kind of felt it auxhilarating. But, when asking Adrien on the Intercom if he was ok, we got a direct, short and honest answer "NO"! He was hating it, which Magnus and I found kind of amusing. We had asked for an adventure, and now we had gotten exactly what we had bargained for.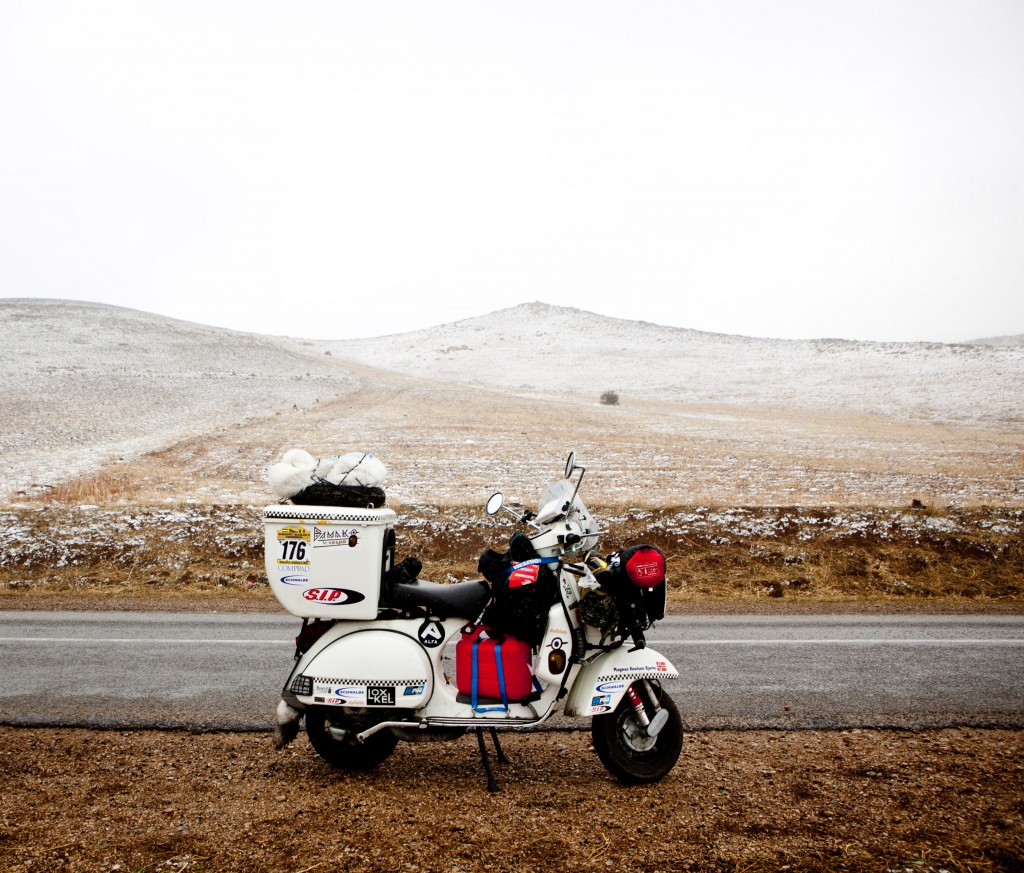 This was a real reality check for us. Back home we had told ourselves repeatedly how hard this would be, how we would be stuck riding from sunrise to sunset most days, that we would have breakdowns, that we would be hungry, that we would be affraid, that we would have accidents, and on and on. Still, deep inside we all hoped Africa would be easy on us and spare us from most hickups. Well, reality bites. Having had long days every day so far, with the most difficult parts in front of us, it struck us quite hard. This is what we came for, and now we are getting it. Suck it up, suck it in, and enjoy!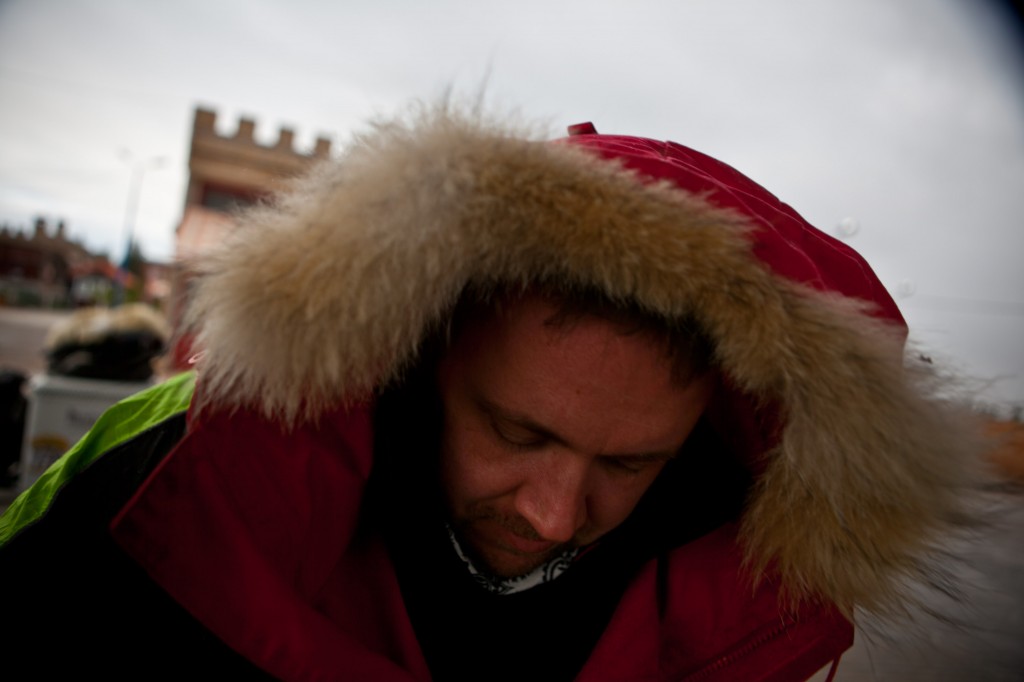 Coming out of the Atlas, we rode into some great open plains. The high side winds were rough, and we would have complained a lot about this if it wasn't for the spectacular nature. Little did we know at this point that the wind would not stop until we were way into Senegal, allsmost two weeks away.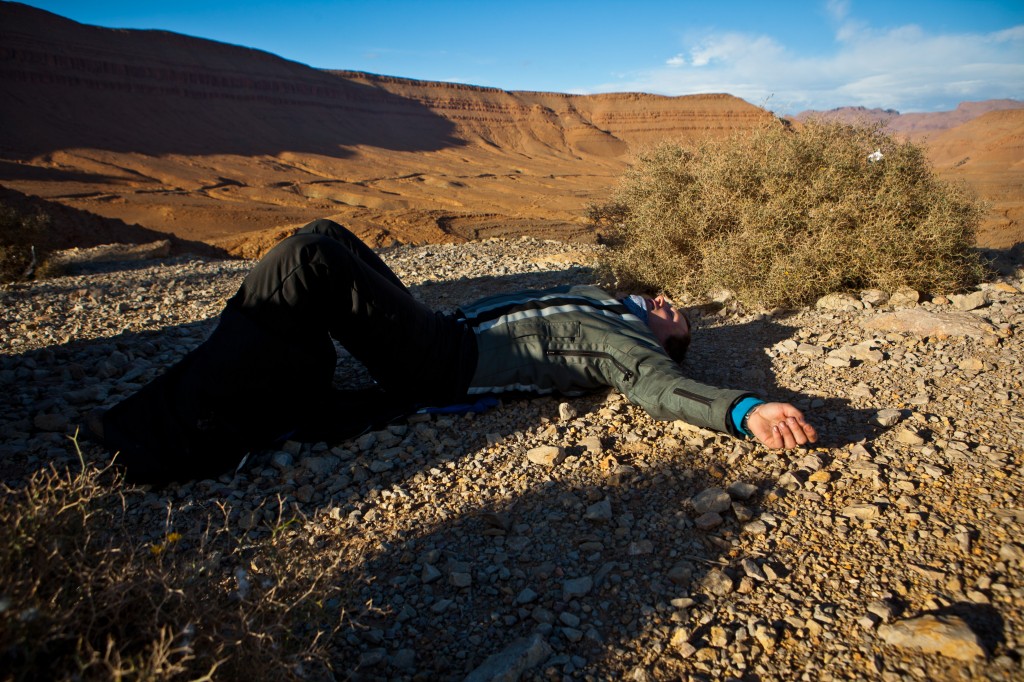 Further on, we rode into great canyons with oasises at the bottom. Wow, what a day so far – the best day of riding ever, in all our lives! Still, we were getting in a real hurry. The weather had slowed us down so much that we were once again caught out at night, riding on narrow, and hilly roads with dangerous traffic and lots of sharp bends and steep cliffs. And, ahead of us was a few kilometers of semi/offroad riding waiting for us.
We were now entering the Sahara. More about that in "Part 2″ of this adventurous day.