Closing up on Rissani, we were riding in to the sunset, on windy roads, deep down in canyons, over hilltops, through picturesque villages… We felt like road warriors from Mad Max. Although half beat, we were twice exhilarated. There was a sense of accomplishment from having come through Purgatory, and from seeing the beauty of it. But, even if the sun was setting, and it looked as we were close to our destination, Purgatory was only half done – this day had lots more in store for us.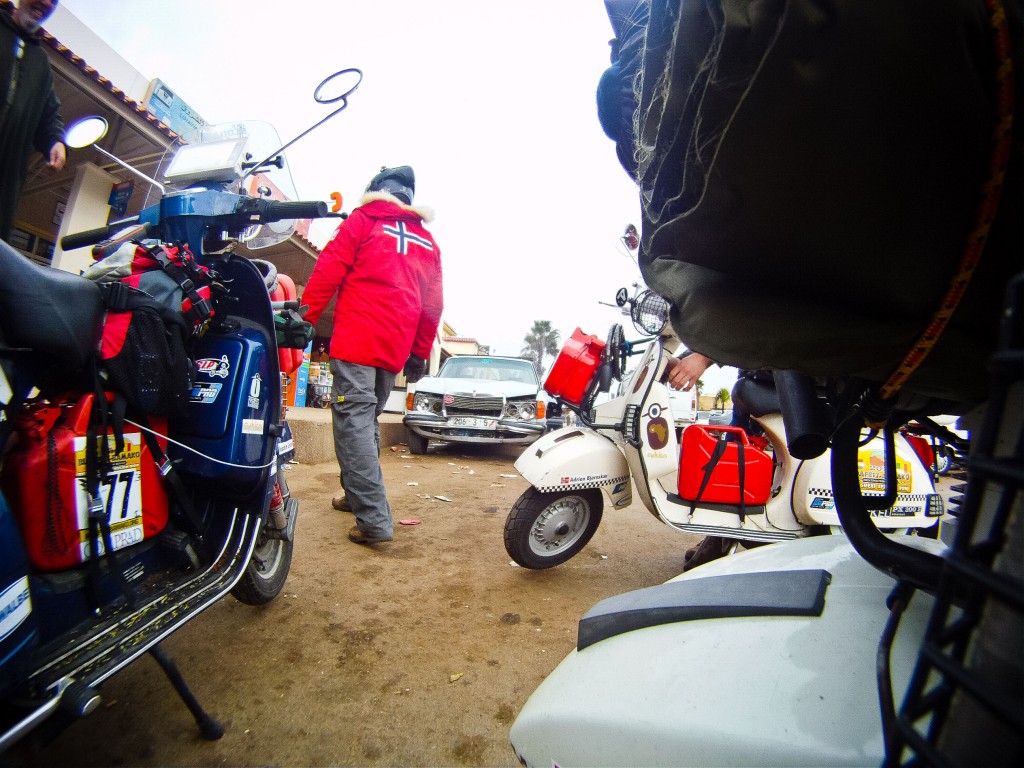 We were now riding into the Sahara, in the dark, searching for a camp site we only knew by GPS coordinates. We started out on a piste, that very quickly turned out to a myriad of crisscrossing tracks comprised of a mix of patches of rock, rubble and soft sand. There was no way of knowing what was piste and what was not, and we kept getting stuck in the soft sandy patches. Trying to asses the best track was useless at this point, it was pitch black and impossible to see where all the tracks led. We were now riding by GPS coordinates, swapping tracks every few minutes in hope of finding the right piste, or at least something more manageable. Every time we thought we had found it, a minute down the track, and it was just as bad as before – it was useless.
We finally came to a building which we thought could be the camp site we were heading for. Unfortunately it was not it, it was a kasbah that had been rented out to the local business and political elite. The caretaker tried to convince us that the camp site we were looking for was closed. Having met a countless number of people on this trip that had tried suckering us into buying from them, or a friend of theirs, by serving similar stories of "fully booked" or "closed", we thanked him for the info, and decided to continue our search to see for ourselves… we should have listened.
It didn't help our situation that Magnus' scooter had a faulty selector box which meant he had trouble changing gears and he had lost his first gear, both Adrien and Joachim had broken speedometer cables, and both their clutch cables decided to pack it in just as we entered the kasbah. This was an omen of what was to come – our first day in the desert and both riders and scooters were struggling. It took some time to fix, but we were determined to show up at the camp site, so after the repairs, off we went.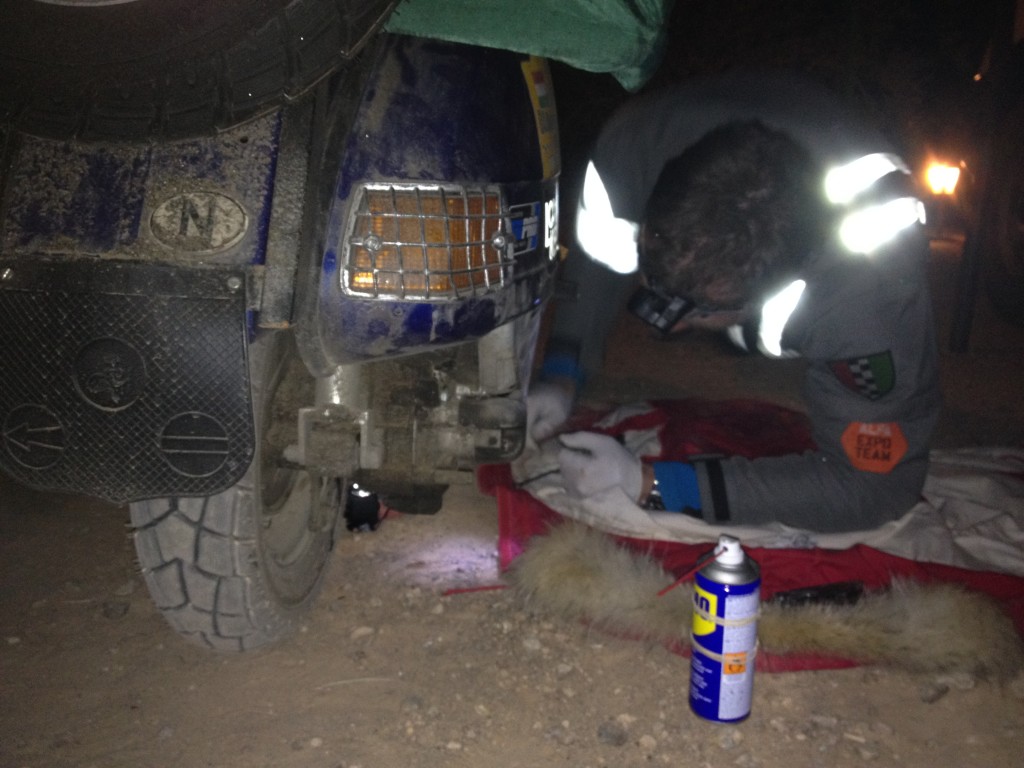 After crisscrossing the desert for some time, we decided to give up and backtrack to where we entered the desert – for what we expected to be a very long night. Just at this very moment, a nomad showed up from nowhere, on a ratty moped. Comparatively, this would be like Neil Armstrong being met by some drifter on the first moon landing. Anyways, this nomad had seen our lights and decided to check it out. He confirmed that the camp site was not open and invited us to stay with him. Although this would have been an experience of a lifetime, at this time all we desired was a real bed and a shower – we were totally spent. The nomad brought us back to the first kasbah and got our invitation reinstated. We fueled up his moped, gave him some flashlights for his kids, and a bottle of oil (that oil turned out to be a mistake as we had only brought what we needed – and its availability in north western Africa is extremely scarce).
At this time we were very embarrassed for having mistaken extreme generosity for a hustling attempt. Not only were we invited to crash our hosts' party, but they insisted that we stay and eat for free… which brings us to one of the most bizarre experiences of our lifetime.